---
The new revised JET RED website is fully functional and can be found at http://www.jetred.com and you have 5 seconds before you are automatically redirected there.
---
JET RED released their self-titled album in 1989. They rocked Northern California from then until the early 1990's. After seeing their amazing live show, I was and still am a fan. Willie Hines, lead singer, guitarist, and song writer, is an amazing performer. This band was as tight as any hard rockin' band at the time. The twin guitar sound of Johnny Feikert and Willie Hines coupled with the driving bass of Brad Lang was accented by their superb vocals to give a lush, melodic rock sound that is sorely missing in today's rock scene.
Check the pictures thanks to Johnny.
If you own the first self titled CD, you know what I am talking about. If you don't own it, what the hell are you waiting for!?!?!?! GET IT TODAY!!!
Sadly, their record label, Relativity Records, did little to promote the band or the album and they had to finally call it a day. They disbanded not as enemies but as friends that realized that the music scene had changed and they were on the outside looking in (thank you grunge music....). But do not despair as Willie Hines has a solo project that is awesome. His new album is available on compact disc and is well worth the money. In fact, the Willie Hines Band is now off and rocking and playing live gigs as well as working on another album. Also, the long awaited second JET RED album is awaiting release. If it is even close to the demos recorded after the first album, it will be awesome. Actually, I have heard it and it is OUTSTANDING!!! If you are interested to know when it is released, please feel free to e-mail me.
You are one of people to have excellent musical tastes and I applaud you!
Keep the faith,
Ken
PS- we will be pop up free soon as I have secured website hosting and am completing a new look website that will include old set lists and other goodies. All in time for the new release!!!
---
..........UPDATE Spring 2009..........

The long awaited release of Jet Red's second album is close to taking off (pun intended!). I received word that the artwork is being done and that the CD will not only have a total of fourteen tracks total, including the Marty Friedman demos and "Tonight Is Too Far Away", plus a bonus DVD of the band live in San Jose at the Cactus Club (a show that I was at...sweet!). Links to follow as soon as I get them!! Cost is reported to be only $18!
For those too lazy to scroll down
Willie is also working on two projects- "Face Cards" which is a full length cd (featuring a classically trained electric violinist-very Ryan Adams) and the follow up to "Yeahright", called "Whatever" (much darker and heavier than yeahright)
Check this write up by our pals over at Sleaze Roxx by clicking here!

..........UPDATE August 2008..........

Brad Lang's War and Peace Bio has been posted. Still awaiting word on the release of Jet Red's Mach 2.........I may have to release the demos I have!!!
..........UPDATE SPRING 2007..........
Brad dropped me a line saying that due to technical difficulties, Jet Red 2 was delayed BUT he is working with Willie to get this puppy pressed up and released this year. Timing is still uncertain but the long awaited wait is almost over!
Brad recently jammed with Gary Hoey in the Sacto area and has been a busy boy.

---
JET RED DISCOGRAPHY
Lead Vocals/Rhythm & Lead Guitar: Willie Hines
Lead Guitar: Johnny F
Bass: Brad Lang
Drums: Billy Carmassi
TRACKS: Bad As Heaven, Lonely, Look In Your Eyes, Not The Only One, Outside, Lolita, Parlez-Vous Francais, Let It Roll, Take Me Tonight, From The Skies
Get a copy of Jet Red on CD by clicking here!
NOTE: For a significant time, one of the drummers for live shows was Steve Brown (yes the little brother of Mick Brown of Dokken fame) after Billy left the band.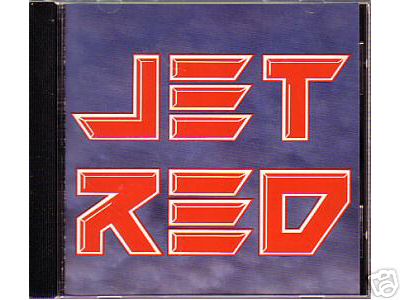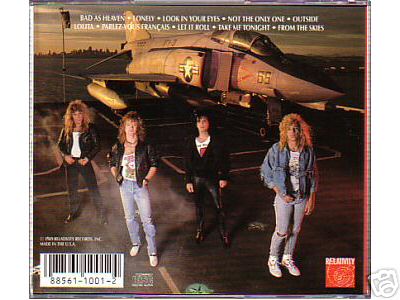 ---
View JET RED & Willie Hines Guestbook
Sign JET RED & Willie Hines Guestbook
Feel free to check the Artist Direct Music Board for other Jet Red fan posts.
---
---
OLD UPDATES
---
..........ADDED JUNE 2005..........
"Ken, Brad here just sayin' hello. I was just thinking of you so I thought I'd drop you a line. Hope things are good in your neck of the woods.
Fro has been playing with George Lynch of Dokken for the past couple of years, and it turns out that they were in need of a bass player, so I got the gig. We're going out for a couple of weeks in June along the West Coast. LA, SF, Sacto., Portland, Seattle and so forth. 2500 miles of driving........OH BOY!!!!!!!!!
Willie and I are getting the artwork together for the release of JR2, so get ready. We're going through the live stuff to throw a bonus track or two along with the studio stuff. We'll talk later.
Brad"
There you have it.....it is coming! JET RED 2 will rock your world!!! Ken
---
..........ADDED NOVEMBER 2004..........
Some pictures from "back in the day"....... Thanks to Johnny Feikert!!!
---
..........ADDED SEPTEMBER 2004..........
I have made a few pseudo good quality sound bites from JET RED MACH 2- the unreleased 2nd album. Click accordingly and let me know what you think!
Also, I went to see Brad and Fro play live in Jeff Pilson's (ex-Dokken) band WAR & PEACE. They rocked!! I suggest you get the album"The Walls Have Eyes" on CD by clicking here. You will not be sad that you did.
---
..........ADDED AUGUST 2004..........
20 Questions with Johnny Fiekert: CLICK HERE to see Johnny's answers
20 Questions with Willie Hines: CLICK HERE to see Willie's answers.
Also, Brad Lang is currently playing with Jeff Pilson's (ex-Dokken member) band "War and Peace" and will be touring soon. To view Brad's bio, CLICK HERE.
---
..........ADDED JUNE 2004..........
This e-mail came from Willie Hines regarding the long awaited Jet Red Mach II CD. For fans, please know that this release will eventually become available to all some day soon but BEWARE OF BOOTLEG COPIES
"Dear Ken; We have a bit of trouble in dreamland, my friend. Someone is selling a bootleg copy of Jet Red II on ebay; worse still, they've got some cheesy T & A style cover that is actually pretty professional looking, but just as bad as that stupid Relativity cover! Anyways, can you post something on the Willie Hines site that alerts people to the fact that the cd on auction is a bootleg, and that the legitimate version is forthcoming by the members of the band. That would really help. p.s.-let 'em know we hate the cover, as we would never put some inane sexist cover like that on anything we would release! Thanks, my friend, and get back to me. Peace...Willie :-)"
Thus do NOT purchase this from any other source other than myself OR Willie directly. Also know that a real legit release will be coming soon!!! Brad Lang and Willie are determining the best way to release this as I write this!!!
---
..........MORE UPDATE INFO..........
An interview with Willie was recently done is is available to read by CLICKING HERE
---
copyright ©1999-2009KDREW