---

The new and improved Eddie and the Tide website is now open and pop up ad free! You should be redirected to http://www.eddieandthetide.com very soon. If not, please click the link.
This page will remain as a tribute to the original work done. THANKS!
---
BRING BACK THE GOOD TIMES.
REAL PEOPLE ONCE MADE REAL MUSIC!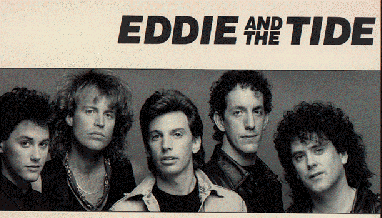 ---
Eddie and the Tide rocked the San Francisco Bay Area from 1983 to 1990. I saw these guys numerous times- at the Keystone Palo Alto, the Stone in SF, the Catalyst in Santa Cruz, Uncle Charlie's in Corte Madera, and many more spots. They did not get their due and sadly broke up. Actually, they sort of drifted apart. But now there is a website for all of you former San Francisco Bay Area club concert fans and you are one of
to check it out! Yes, we are older now but nothing will ever compare to the great sounds and shows of Eddie and the Tide! Their last show was in 1990 at the Catalyst in Santa Cruz. Nobody knew it was going to be their last show. I was lucky enough to be there!

NEWS and UPDATES: look below for the latest information (like Steve's new album!!!) or click the link to see older news.


Eddie and the Tide live on the internet! 01/14/2009:


Thanks to our pals at Wolfgang's, you can now hear a classic concert live at home or work right on your computer. If you want this in CD format, let me know. Here's a great sample of the unreleased gem "Excited" for your listening pleasure.

DISCOGRAPHY: albums complete with track lists and SONG SAMPLES!!! Includes the LIMITED EDITION RE-RELEASED CDs!


THE FAQ: frequently asked questions: This will give you some info on the members of the band from my collection of old Tidelines (the fan club newsletter).

PICTURES: including live concert shots and recently added pictures of fliers, newspaper photos, shirts, etc. CHECK IT OUT NOW!

Long lost interview with Steve "Eddie" Rice from January 30, 2002.

Waiting For The One video is online!


Weak In the Presence Of Beauty video is online!


The long lost "One In A Million" video!!! Just click above to see it!!

MY SPACE anybody?!?!?

---
The last word we have is that Scott and George are still in Santa Cruz while Chris lives is in Berkeley. Johnny is busy as a contractor and building houses in the Santa Cruz area. Chris is a service manager at an auto dealership. Several people have tried to persuade Steve "Eddie" and the boys into doing a reunion but there is none in the works. Maybe VH1 Bands Reunited ?!?!?!?! Steve "Eddie" still writes music, even though he is not be performing regularly. In fact, an old "Eddie and the Tide" tune is on a recent Eddie Money release! Don't forget to check out Steve "Eddie" Rice's first solo CD as well. It is available via the discography link.
A reunion may still be a possibility, someday.....with enough persuasion, perseverance, and people like us, asking about them.
Don't forget to take the Eddie and the Tide Poll Lost your old Eddie vinyl or CDs? Need or want great Eddie and the Tide material?
Do you have stuff to trade? I NEED VIDEO!!! Help a brother out! E-MAIL ME NOW !!
Stay alive,
---
View The Eddie and the Tide Guestbook
Sign the Eddie and the Tide Guestbook
---
---
---
---
---
---
copyright 1999/2000/2001/2002/2003/2004/2005/2006/2007/2008/2009 KDREW